Classic Amantani Island Tour Overview
Amantaní island is located 40 Km (25 miles) away from the city of Puno on Lake Titicaca (3 hours of navigation in normal boat). Because of its more distant location, tourism on the island of Amantaní has not developed in the same way as on Taquile.
This is the classic tour that a pool of travel agencies puts together for small budget travelers. Even though it is a very popular trip, there is a lot of controversy about this low-priced tour group because it does not pay fairly to the locals for their food and home stay services.
We try our best to be fair to the local people and we always suggest paying directly all services on this island to local host families.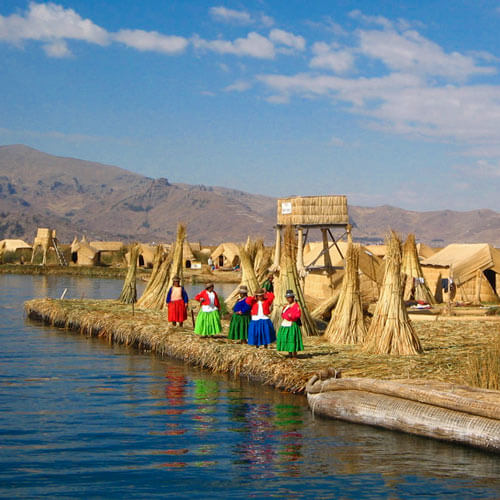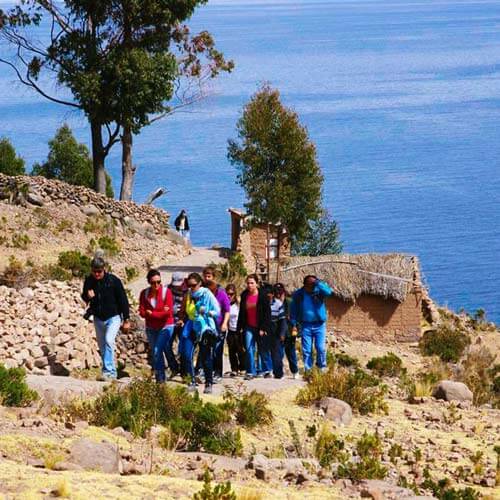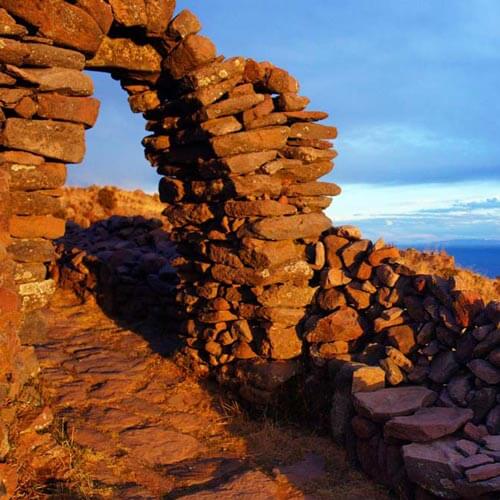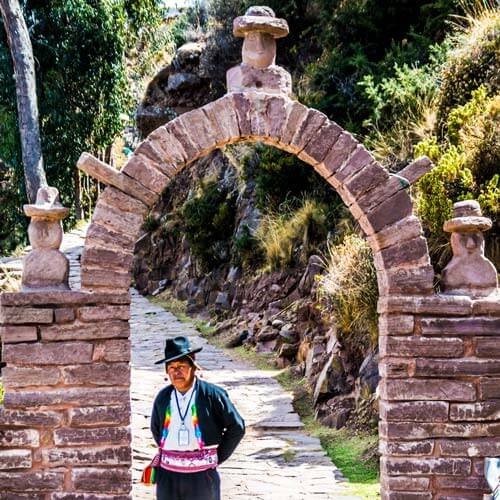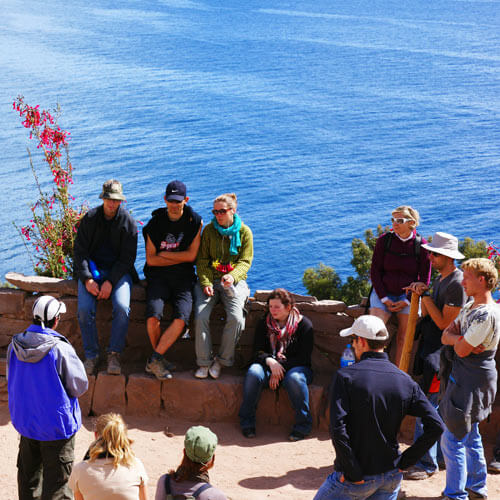 Tour Itinerary
ITINERARY: PUNO > UROS FLOATING ISLANDS > AMANTANÍ ISLAND > TAQUILE ISLAND > PUNO
Duration: 2 Days and 1 Night
07:30: Pick-up from your hotel in downtown Puno*.
08:15: The boat departs direction to Amantaní Island.
08:45: The boat stop by the floating Islands of Uros for a guided interpretation of the local way of life of the Uro people.
13:30: Upon our arrival in Amantani Island you are greeted by friendly community members. Later, you are assigned to a local family and follow your hosts to their houses.
14:00: Lunch in local house.
16:00: We start a hike up towards the lookout point and ceremonial center "Pachatata" or to the other ceremonial center called "Pachamama". We wait for the sunset views over the vastness of Lake Titicaca.
19:00: Dinner and overnight in local house.
If we are lucky we might be able to join a local celebration with the host families. We can listen to Andean music and enjoy learning some typical dances.
08:00: After breakfast, the boat departs towards Taquile Island.
09:00: The boat departs direction to Amantaní IslandWe arrive in a secondary dock of Taquile and walk through a scenic path towards the main village.
10:15: We reach the main village of Taquile.
11:45: Lunch time (lunch not included in price).
12:30: We start our walk back to the main dock of Taquile to embark on the boat.
13:00: Departure time back to Puno.
15:40: Arrival in Puno and you will be transferred to our hotels in downtown.
WHAT DOES IT MEAN SHARED BASIS BOAT OR GROUP TOUR?
A shared basis tour is a group tour where different local tour operators sign up their clients and the large cost of transportation or tour guide is shared by many people so the tour price is lower.
WHAT ESSENTIALS SHOULD I BRING?
It is recommended to bring your sunglasses, sunscreen with high SPF,
moisturizing cream, bathing suit (just in case water is cold in the lake!), a hat, warm and comfortable clothes for night and dawn hours, cotton T-shirts during daytime, hand sanitizer and camera.
English-Spanish speaking guide
Pick-up from hotels in downtown Puno
Normal boat transportation (3 hour and ½ navigation time to Amantani and 2 hours and ½ navigation time from Taquile to Puno).
Entrance fees to the islands.
Tips
$17,00 per person for 3 meals and bed in home stay to be paid directly to the local family in Amantaní. The local family will provide you also with three or more clean blankets. However we suggest using your sleeping bag if you have one with you. Toilettes are basic.
Lunch in Taquile
There is a supplemental charge for pick ups from hotels outside the city of Puno: Libertador, Eco Inn, Casa Andina Private Collection, Posada del Inka, Jose Antonio and hotels in the village of Chucuito
Amantani Cultural
2 day 1 night
$17,00 per person for 3 meals and bed in a home stay to be paid directly to the local family in Amantaní. 

ANY DOUBTS OR MORE INFORMATION? CHECK OUT THE FREQUENTLY ASKED QUESTIONS (F.A.Q.)