Mallkini Alpaca Farm Tour Overview (2 Days – 1 Night)
Located in the Azangaro Province of Puno, 140kms from Juliaca airport, Mallkini, owned by the Michell Group, covers just over 3,000 hectares of land and possesses more than 3,000 Alpacas of the Huacayo and Suri species. Mallkini is the biggest privately funded Alpaca breeding projects in Peru and we are committed to teaching Alpaca farmers about how to improve existing breeding programmes in Puno's Highland communities as well as other Peruvian and foreign institutions dedicated to the genetic improvement of Alpacas with the aim of ensuring the sustainability of the industry for many more years to come.
The geography at Mallkini represents and reflects the rich and diverse microenvironments of the Andean highlands, better known as the kingdom of the Alpaca. The highlands around Mallkini vary between 4,000 and 4,500 metres above sea level, with abundant pastures and wetlands, from which the Alpaca obtain their diet from natural grasses low in protein.
The natural surroundings and infrastructure of Mallkini make it a special place for holding events such as workshops and seminars on Alpaca breeding as well as for practising outdoor sports such as trekking with Alpacas, horse riding, walking and much more.
Mallkini possesses the best and also the safest accommodation in the area and visitors can experience first-hand the Highland life without missing out on the comforts offered in its installations.
The Lodge Capacity
Mallkini is situated in a privileged area of the Highlands and the hotel was constructed using traditional techniques and building materials to create an effect of structural and aesthetic harmony combined with the comfort and requirements of modern life while maintaining the coziness and simplicity typical of rural life.
6 double room (it accommodates a maximum of 12 people), or accommodation for families: 2 double rooms and 4 triple rooms (it accommodates a maximum of 16 people).
All around the building are woods, hillsides, streams, gorges, waterfalls and large bodies of natural water, all inhabited by diverse native flora and fauna, all of which provide a dose of genuine beauty, making Mallkini a place recognised for being a wonderful experience for those fascinated by ancient achievements by men intimately linked to nature, generating a non-aggressive interaction which has left the natural beauty of the surrounding landscapes completely unscathed.
Location and Access
Mallkini farm is located 140 Km away from the city of Juliaca. Only the last 7 Km is not asphalted.
It is a three-hour bus ride from Puno and about two hours from Juliaca to the north of Lake Titicaca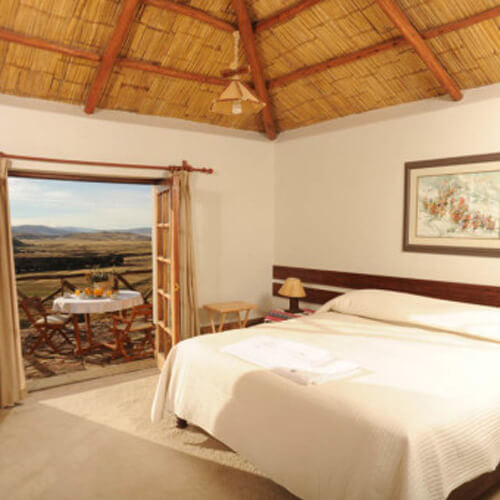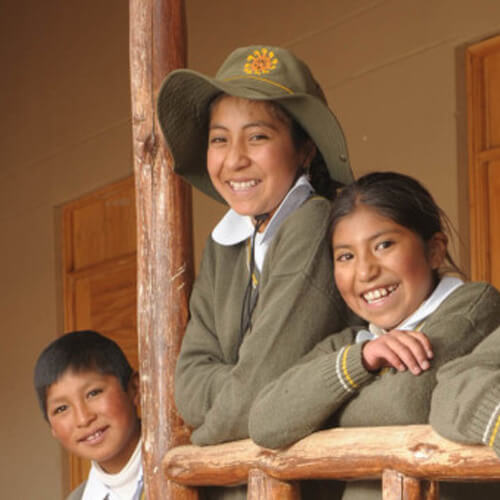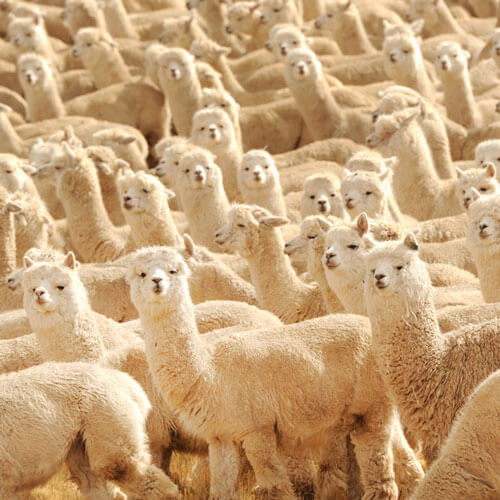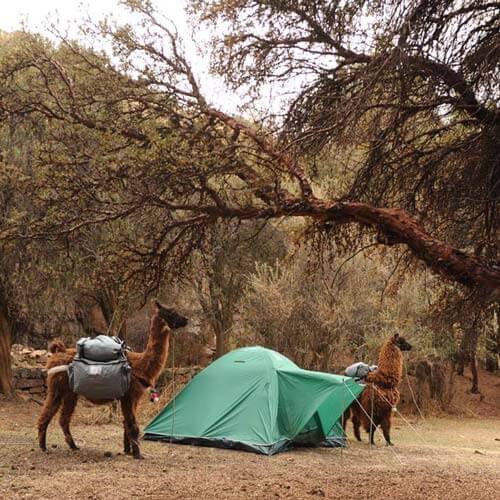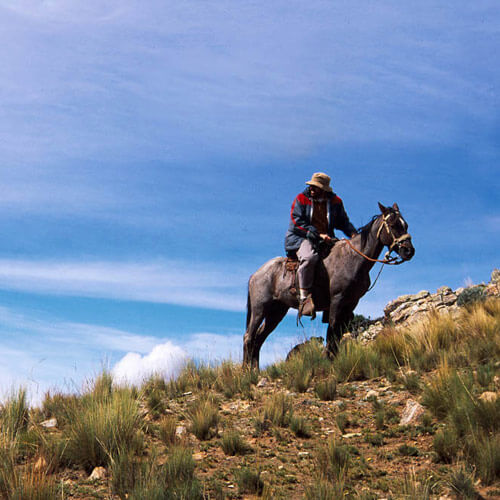 Why Choose the Mallkini Alpaca Farm Tour?
Mallkini is a ranch, which combines Alpaca breeding and outdoor adventure. Mallkini began its operations in 1995 thanks to the efforts of the Michell Group, industry leader and biggest Alpaca textile group in Peru. Mallkini Alpaca breeding and Genetic Center's mission is to improve the quality of Alpaca fibre through the training of local breeders as well as to improve their standard of living and, at the same time, develop an interest in ecotourism throughout the Puno region.
Also, the Michell Group has established in 1997 the Mirasol Project, which was created thanks to the initiative of a Norwegian couple, customers of Michell Co. The Mirasol Project is a boarding school that benefits at least 50 children from remote villages of the Andean Plateau. With monetary contributions from sponsors, the project has been able to pay for the construction and implementation of the school premises, properly equipped boys' and girls' dormitories, and teachers' salaries, complete and balanced meals (breakfast, lunch and supper). The children also receive a 'track-suit' as a uniform plus their night attire. The Mirasol students receive all necessary educational materials in order to work after school and to do their homework. Also, parents are contributing with their work doing weekly cleaning and maintenance including laundry.
Tour Itinerary
ITINERARY: PUNO > AZÁNGARO > MALLKINI > PUNO
All itineraries are subject to change due to circumstances beyond our control including, weather, road or trail conditions and flight schedules.
We leave Puno at 8:00 a.m and take the road towards Juliaca-Cusco. After a 2-hour ride, we will take a deviation towards the village of Azángaro. At this village we will stop to visit a beautiful Andean Church which has been recently restored and keeps precious paintings of the Cusco School style. Next, in the village of Tintire, we will find another unique church of the XVII century made of mud and clay. This church is not open to the public but we can observe her beautiful façade and architecture from the outside. Later, we will also pass by the old "hacienda" Checcayani. This farm (hacienda in Spanish) is well-known because of its breeding of the famous Spanish fighting bull, or "toro de lidia". This is a unique breed of bovine renowned for its exceptional bravery and beauty. We will see these fine animals along the way.
We will arrive at Mallkini at 11:00 approximately. Once we have settled in, we will enjoy of a delicious lunch and get ready to explore the area. All around the Mallkini's house we will find woods, hillsides, streams, all inhabited by diverse native flora and fauna. The lonely and peaceful landscapes amaze us with their breathtaking beauty, silence and peace.
Later in the afternoon we can visit *Mirasol school which host a number of 50 children who come from remote villages from the Andes. During weekdays and school time, there is a possibility for us to volunteer for one or two hours to share educational activities with the children.
At night we enjoy a delicious dinner and have the chance to gather around a nice warm fire or gaze at the especially stunning starry sky that this remote location enjoys.
After a delicious breakfast, we can ride on the Fundo's short but strong horses and start our way to find one of the Alpaca Herds in the heights of the ranch. If you are not a horse person, we will be glad to drive you in one of the 4WD vehicles to the boundaries of the ranch.
At about 10:00 a.m we will start our trip towards our next destination.
I AM TRAVELING SOLO OR IN SMALL GROUP; CAN WE HAVE A MORE ECONOMIC TRANSPORTATION SERVICE?
Yes, we can help you to adjust transportation cost with other options. Just contact us we will be pleased to help
I WANT TO VISIT THE MIRASOL BOARDING SCHOOL, WHEN IS A GOOD TIME?
School season in Peru in rural areas runs from April 1st through July 15th and again from August 15th through December 15th. Summer holidays start from Mid-December to April 1st. The School visit can only be provided during weekdays. If you are very interested in visiting the school and sharing time with the local students please make sure you tell our agent to check if the date of your visit is suitable for a school visit.
Double or single room accommodation (according to previous request)
Meals per day (Breakfast, Lunch and Dinner) as described in the itinerary, plus snacks and hot beverages
Activities: Horse-riding, hiking, going through the ranch by 4×4 vehicles
Overland transportation**
Transfer in and out from your original location (Puno, Juliaca, Arequipa or Cusco) to Mallkini and vice versa
Laundry service
Alcoholic drinks and cocktails
Mallkini Farm
2 day 1 night
Additional Cost of Transportation Puno – Mallkini – Puno in a car for up to 4 people: USD200 
ANY DOUBTS OR MORE INFORMATION? CHECK OUT THE FREQUENTLY ASKED QUESTIONS (F.A.Q.)
Alternative Overland Options
See options and prices below.
Cambria - Fundo Mallkini
Van (1-4 pp): USD197
Sprinter (5-10 pp): USD208
Sprinter (11-16 pp): USD227
Llachon - Fundo Mallkini
Van (1-4 pp): USD225
Sprinter (5-10 pp): USD236
Sprinter (11-16 pp): USD255
Juliaca - Fundo Mallkini or visa versa
Van (1-4 pp): USD154
Sprinter (5-10 pp): USD165
Sprinter (11-16 pp): USD184
Puno - Fundo Mallkini or visa versa
Van (1-4 pp): USD154
Sprinter (5-10 pp): USD165
Sprinter (11-16 pp): USD184
Puno - Fundo Mallkini - Cusco (2 night stay)
Van (1-4 pp): USD350
Sprinter (5-10 pp): USD390
Sprinter (11-16 pp): USD410
Puno - Fundo Mallkini - Cusco (1 night stay)
Van (1-4 pp): USD300
Sprinter (5-10 pp): USD340
Sprinter (11-16 pp): USD360