Suasi is a secluded island located off-the-beaten path in the northeastern section of Lake Titicaca. On its private 43-hectare this island features one of the most beautiful eco-lodge in Peru.
We like to say that Suasi is not just a "lodge", Suasi is more a big countryside home built by local Aymara workers and with local materials such as wood, stones and totora reed. The property runs mostly on solar energy. Suasi is a genuine home for nature lovers where the magnificence of Lake Titicaca can be captured from every corner of the island.
Perfect for the soul, Suasi brings an overwhelming sense of tranquility, relaxation and peace. Indeed, Suasi Island is the perfect place to relax, to find your self, and to reflect on all the adventures and experiences that will make your journey through Peru unforgettable.
For the most discerning travelers Suasi offers the Andean Cottage, a private villa nesting on a small sandy beach.
The Lodge Capacity
The house has 23 rooms and all rooms have a beautiful lake view. There is a restaurant, a bar, a library, a large games room and sauna. Additionally, you will enjoy the gardens, terraces and the lakeshore beaches of the island. There is also a private cottage with 2 rooms, a private garden and terrace.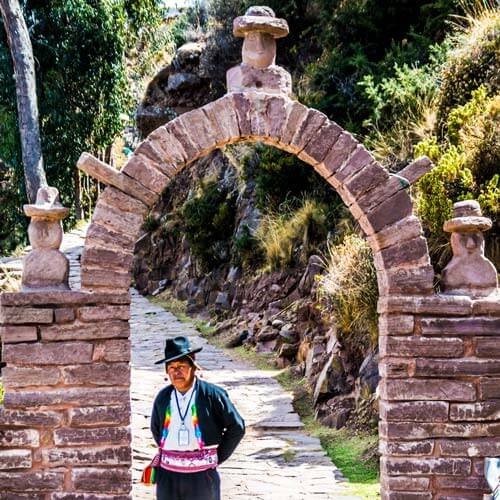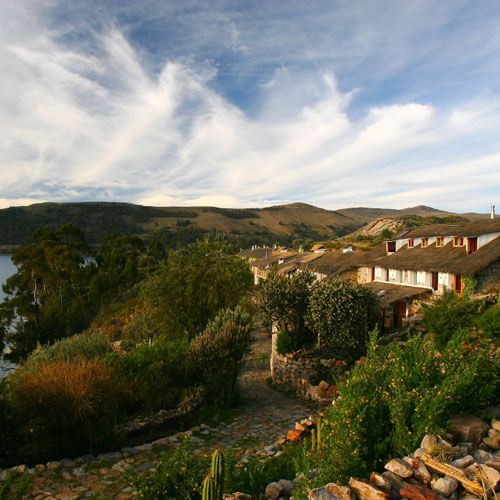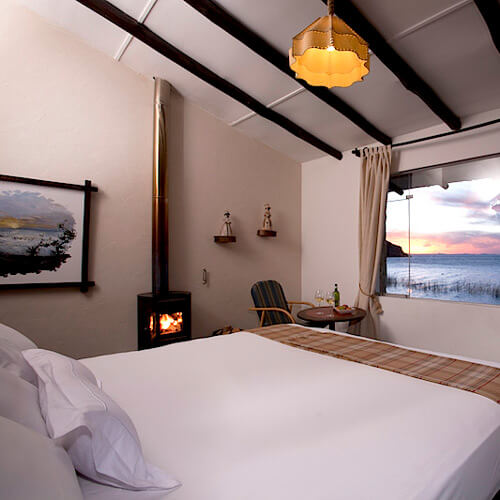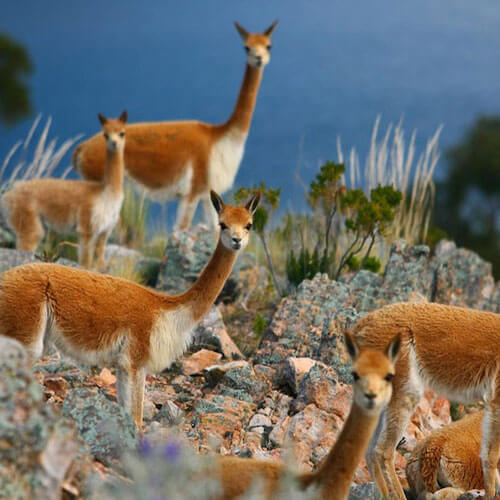 Location and access
Suasi Island is 250 km from Juliaca Airport. The property can be accessed by boat or car.
By boat: The departing port is the harbour of Puno. Suasi's boat leaves only once a day at 7:30a.m. The boat trip includes a guided tour to Uros and Taquile islands. The duration of this trip is approximately 4.5 hours.
By car: From Juliaca approximately a 2-hour drive. From Puno approximately a 3-hour drive.
Both ways end the journey by boarding a zodiac from Cambria to Isla Suasi (15 minutes). This access with zodiac is only possible until 3 p.m. due to weather conditions.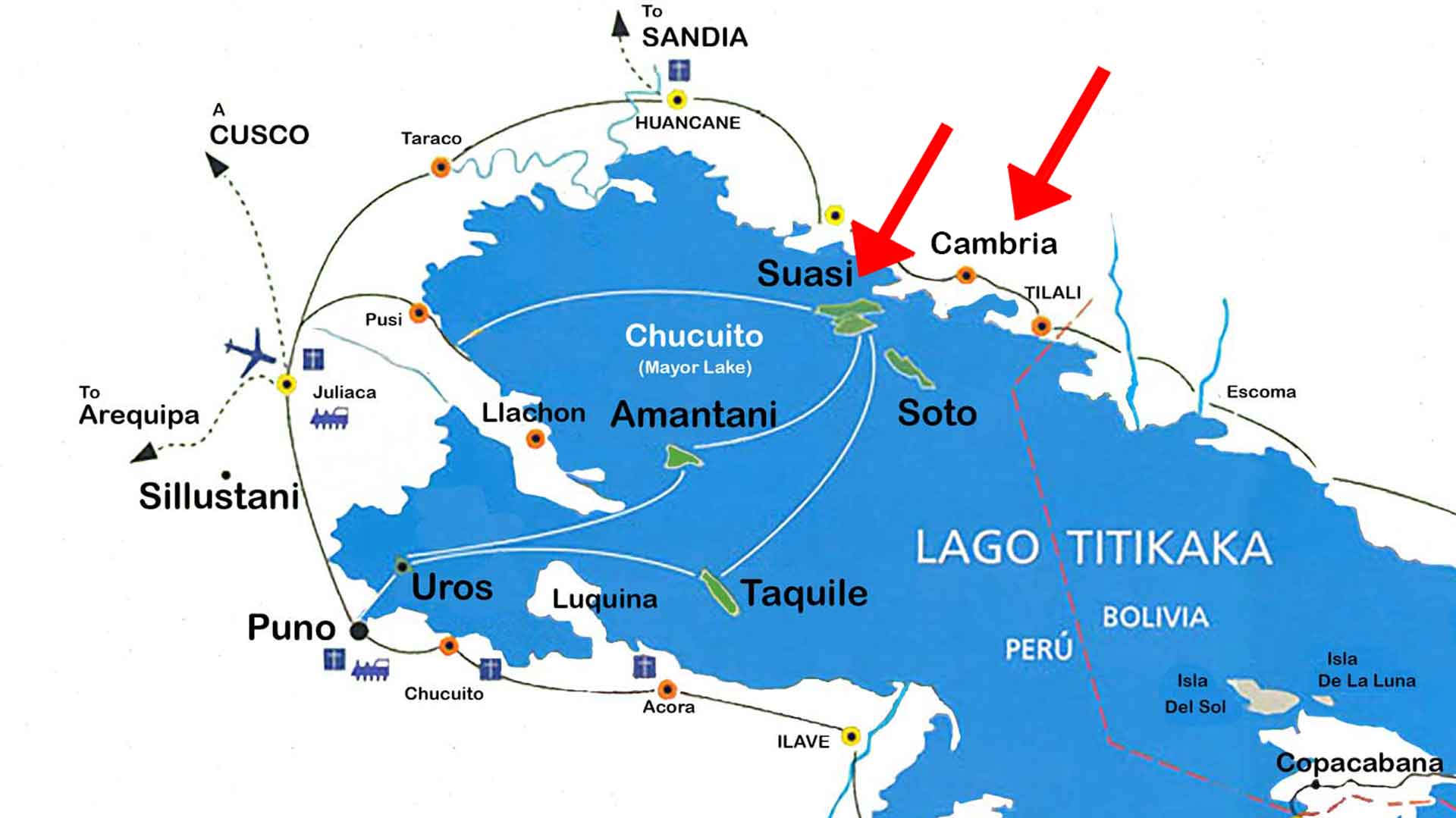 Tour Itinerary
ITINERARY:PUNO > UROS > TAQUILE >  SUASI ISLAND > PUNO
All itineraries are subject to change due to circumstances beyond our control including, weather, road or trail conditions and flight schedules.
07:00: You will be collected from your hotel and transferred to the harbor of Puno
07:15: The boat departs towards Uros floating island.
07:30: We stop at one of the Uros islands where you will find out how the floating islands are made. During this 1 hour visit you will enjoy of an interesting discovery of the everyday life of the Uro people on their handmade islands.
09:30: We stop at Taquile Island for about 1 hour to participate of a fascinating cultural demonstration led by local people. The native Taquileños will explain about the meaning of their fine textiles, designs and peculiarities such as how do they make natural soap out of a native plants to wash wool and clothes.
12:00: Arrival and welcome at Suasi island.
13:00: Lunch.
Canoeing along Lake Titicaca: You can navigate across the island in a Canadian canoe, passing through totora reeds and observing lake birds such as Titicaca Flightless Grebe, Andean geese, Black Skimmer, Peruvian booby and many species of seagulls, along with camelides and viscachas. Duration: The length of this activity depends of the each traveler. A short itinerary can take about 45 minutes or going around the island can take about 2 hours. We highly recommend doing the longer itinerary in the morning time. Bad weather and strong wind might prevent you to go out on the canoe.
Discover Plants and Animals – 2hrs: In the 43-hectare island of Suasi, there are many native highland plants and animals that can be observed, including three species of camelids and one of viscachas. Easy tracks running from North to South cross the island.
Duration: 2 hours/Suggested departure time: morning or afternoon / Includes: guide, binoculars and water / Difficulty level: low.
Stargazing on Lake Titicaca at Night
19:30: Dinner.
Optional: Andean Spa and Massage Service (not included, direct booking in hotel)
Breakfast buffet.
Visit of the Cultural Cabin: Martha Giraldo, owner of the island, runs a cultural cabin where travelers learn about the unique ecosystem of the high Andean plateau and the Lake Titicaca region, in addition to human intervention throughout history in activities such as stockbreeding, agriculture, pottery and textiles. It also has one of the region's most comprehensive libraries on themes related to the high Andean plateau. Time: depends on the group. Suggested time: morning. / Difficulty level: low.
12:15: Departure from the dock in Suasi. This trip lasts approximately 3 hours.
15:30-16:00: Arrival in Puno and transfer to hotels.
WHAT ESSENTIALS SHOULD I BRING?
It is recommended to bring your sunglasses, sunscreen with high SPF, moisturizing cream, bathing suit (just in case water is cold in the lake!), a hat, warm and comfortable clothes for night and dawn hours, cotton T-shirts during daytime, hand sanitizer and camera.
Transfers from/to other hotels to the harbor in Puno
Round trip in speed boat to Suasi island and back to Puno or by car depending of program chosen
1 night stay in double room in eco lodge
1 breakfast buffet per person
1 lunch per person
1 dinner per person
1 boxed lunch per person
All suggested activities
Sauna
Bilingual official Tour Guide (English/Spanish) for the boat transfer
All the additional costs
Overland transportation**
Spa and Massage service
Laundry service
Alcoholic drinks and cocktails
Local tour guide from Puno on the island (it is not essential) Suasi Island staff takes good care of the guests.
Boat Round Trip Puno ↔ Suasi ↔ Puno
Accomodation in Double or Triple room (full board all inclusive): USD319 pp
Children under 10 sharing room with parents (full board all inclusive): USD242 per child
Boat Trip & Overland Return
Accomodation in Double or Triple room (full board all inclusive): USD369 pp
Children under 10 sharing room with parents (full board all inclusive): USD292 per child
Alternative Overland Options
See options and prices below.
Prices are the same regardless of trip direction. 
Cambria - Juliaca
Van (1-4 pp): USD155
Sprinter (5-10 pp): USD175
Sprinter (11-16 pp): USD250
Bus (8-15 pp): USD350
Bus (16-25 pp): USD380
Cambria - Puno
Van (1-4 pp): USD155
Sprinter (5-10 pp): USD175
Sprinter (11-16 pp): USD250
Bus (8-15 pp): USD350
Bus (16-25 pp): USD380
Cambria - Cusco
Van (1-4 pp): USD370
Sprinter (5-10 pp): USD385
Sprinter (11-16 pp): USD480
Bus (8-15 pp): USD680
Bus (16-25 pp): USD720
Cambria - Mallkini
*up to 12 passengers only. 
Van (1-4 pp): USD195
Sprinter (5-10 pp): USD210
Sprinter (11-16 pp): USD295
Bus (8-15 pp): USD330
Bus (16-25 pp): n/a