Taquile Island ↔ Luquina (2 days – 1 night)
The Island of Taquile is located 36 Km (22 miles) away from the city of Puno. It takes a 2 and half hour boat ride to arrive in the island's main dock. The island highest elevation is 4100 m (13451 feet); it has a length of 5 Km (3.10 miles) and a width of 1.5 Km (0.93 miles). To walk across the island takes about two hours.
In our tours in Taquile we follow enjoyable paths that gradually take us to the main village or to other more remote sectors of Taquile. These other paths of access to the main village allow you to catch spectacular views of Lake Titicaca. We avoid climbing up the 535 stairs that take the visitors to the main village but it is unavoidable to walk the stairs down to go back to the main dock.
Since the beginning of the tourism flow to the island, the "Taquileños" have been participating directly in the tourism business. They have become successful entrepreneurs running little hostels, restaurants and boat enterprises in the island. Nowadays, the island remains quiet with no cars, motorcycles or bicycles. There are no roads – just stone pathways carved into the steep hillside.
Taquile is home of a Quechua population of 2,000 people who are mainly farmers, fishermen and above all renowned weavers. A demonstration of traditional Andean weaving is the highlight of this visit. The textiles from Taquile are of extraordinary quality. Textile experts from around the world have recognized that "Taquileño" textiles are not only among the finest in the world but also extremely rich in natural colors and designs of fascinating symbolic culture.
By the age of seven, boys are proficient knitters. In fact, the entire family is involved in knitting or weaving. Children knit "chullos" (hats), gloves and finger puppets of condors and llamas, common animals of the Andes. Women hand-spin the soft fleece of the sheep and alpaca into fine yarn for sweaters and blankets. Men weave wide, colorful belts called "chumpis" on a handloom. Selling these handicrafts to tourists is the major source of income for many families.
In July, villagers observe the Feast of Santiago Apostol with music and dancing. Whether celebrating weddings or religious holidays, there is always a reason to enjoy the folk music and dance that is an important part of island life.
On this tour we also visit Luquina, a small and rarely visited rural community in the peninsula of Chucuito. It takes around 1 and a half hour's boat ride from the town of Puno.
The local families from Luquina share with us their peaceful existence, each family lives on a small piece of land where they also keep their domestic animals. Sometimes they have donkeys, pigs, sheep and hens in a little barn next to the house.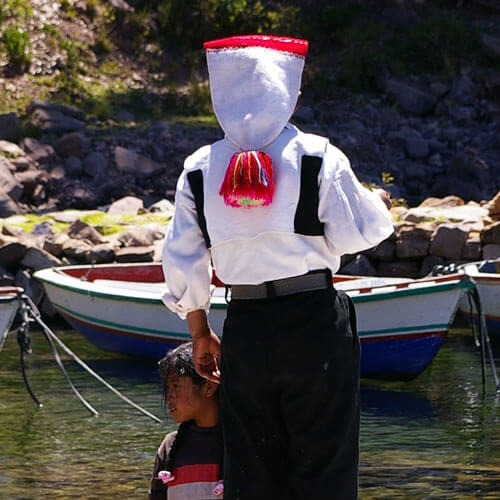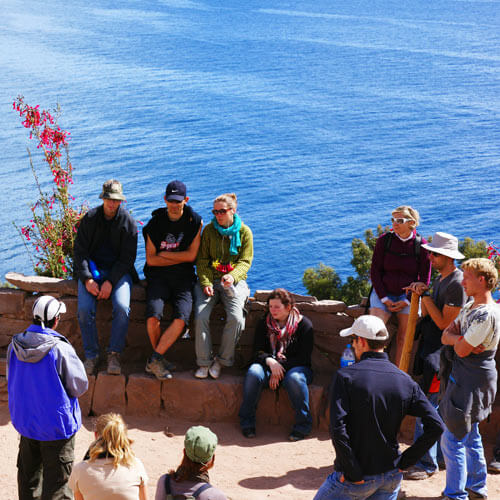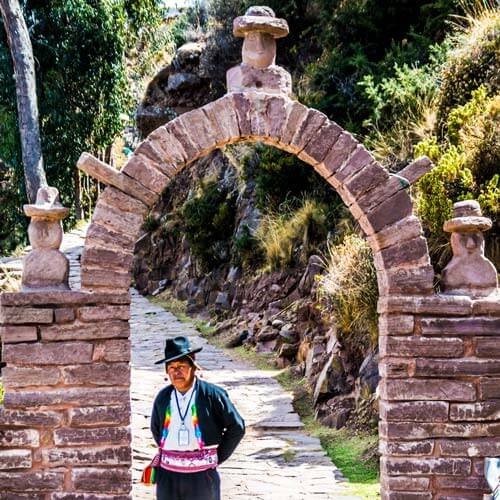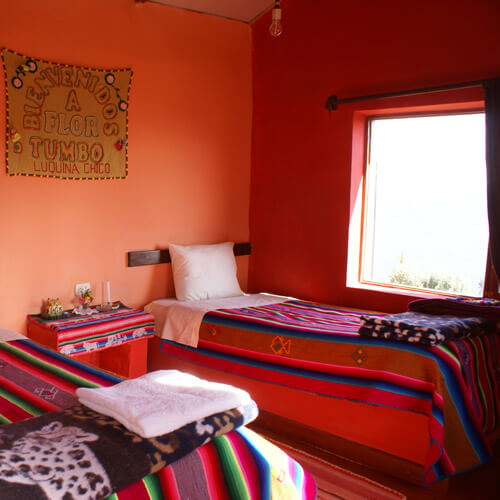 Why choose the Cultural Luquina Tour
Around 15 families in Luquina have been trained to provide tourism services such as cooking and housekeeping. Today, the best rural guestrooms in Lake Titicaca are found in this community. Their rooms are cozy, very comfortable and most have a pretty view of the lake. The rooms have also clean private bathrooms and hot showers. They also offer clean and comfortable beds with thick and warm blankets.
Tour Itinerary
ITINERARY: UROS > TAQUILE ISLAND > LUQUINA COMMUNITY > PUNO
All itineraries are subject to change due to circumstances beyond our control including, weather, road or trail conditions and flight schedules.
8:00: The tour starts in Puno. We transfer you from the hotel to the dock in Puno. We embark on a boat journey towards Taquile Island and later on to the community of Luquina. On the way to Taquile, we stop by the floating Islands of Uros for a guided interpretation of the local way of life of the Uro people.
11:30: We arrive in Taquile Island and start a soft hike up to a community where we will enjoy a textile and cultural exhibition where a native guide will provide and interpretation of the traditional clothing and textile designs from Taquile.
12:30: Lunch in Taquile Island.
13:30: We return to the dock to continue our trip to the community of Luquina.
15:00: Upon our arrival in Luquina, we will be greeted and welcome by the friendly members of the community. We will immediately notice their beautiful bright typical clothing and enjoy the sound of their musical instruments.
As part of the community-based tourism initiative, travellers cans spend time with the locals, gaining an insight into such daily activities as farming, fishing sailing and cookery. Some groups have been able to play soccer and volleyball against the locals; such sports activities are the favourites of local children and young people to share with the visitors.
19:00: A delicious dinner made of local produce will be served in the host family house: Quinoa soup and a tasty potato and vegetable stew with rice. Communication might be difficult as the local people speak mostly Aymara and some Spanish but they are very warm and gracious. Gesturing and smiling works often very well!
20:00: On the evening, the community will offer us a chance to enjoy their Andean music played with traditional instruments and we will be more than welcome to try to join the local group for either dancing or playing a local musical instrument. Do not be surprised when you will also be given the opportunity and privilege to try on the local dress and costumes.
Lodgment in homestay.
8:00: After breakfast, the morning will be filled with more activities such as hikes around the community and through the paths crossing the small farmlands or sailing on a fishermen's boat around the peninsula's cliffs. For those who love trekking, there is an option to do a one hour hike up to a lookout point. The hike can be tough, because of the altitude, but the views are a worthy reward. The vastness of Lake Titicaca is breathtaking and the sight is graced with the small, terraced farms, adobe buildings and a peaceful lakeshore's beach.
13:00: lunchtime
14:00: After lunch our host families will wave goodbye as we embark again on the boat back to Puno and to continue on the next adventure.
15:30: We arrive in Puno dock and we will be transfer to our hotel.
WHAT ESSENTIALS SHOULD I BRING?
It is recommended to bring your sunglasses, sunscreen with high SPF,
moisturizing cream, bathing suit (just in case water is cold in the lake!), a hat, warm and comfortable clothes for night and dawn hours, cotton T-shirts during the daytime, hand sanitizer and camera.
Pick-up from/to hotels
Round trip boat transportation
Lunch in Taquile Island
Sailboat ride
Entrance fees to the islands
Bilingual Tour Guide (English/Spanish) for 2 days
$35,00 for lodgment in homestay (1 dinner – 1 lunch – 1 breakfast per person in Luquina). Direct payment to the local family. The rooms in Luquina have private bathroom and shower
Tips
There is a supplemental charge for pick-ups from hotels outside the city of Puno: Libertador, Eco Inn, Casa Andina Private Collection, Posada del Inka, Jose Antonio and hotels in the villiage of Chucuito
Overland transportation**
Taquile ↔ Luquina
2 day 1 night
Minimum 4 People. 

+ $35,00 per person to be paid directly to local family for Lodging and Meals in Luquina.
ANY DOUBTS OR MORE INFORMATION? CHECK OUT THE FREQUENTLY ASKED QUESTIONS (F.A.Q.)