Classic Uros Floating Islands Tour Overview (group tour shared basis)
The floating islands of UROS are located inside the bay of Lake Titicaca only 14 Km. (about 9 miles) away from the city (20 to 30 minutes of navigation time).
The Uro people were simple fishermen and bird hunters and preferred to remain isolated from the more advanced civilizations. Their search for isolation may be one reason why they decided to live in mobile houses on the lake. When the Spanish chroniclers encountered the UROS by the end of the XVI century, the UROS people were still living on the lake in small reed-boats that they used as floating houses. Only in the early 60s, the Uros started to build small artificial islands with reeds for their homes.
Nowadays, The Uro islanders are survivors and they strive for a better future for their children. The young "Uro" are beginning to receive a better education and it is likely that they will not return to live on the "floating island". The days of this old community will most likely end with the next generation.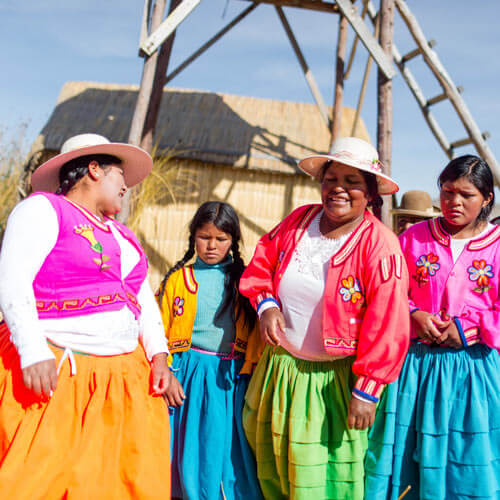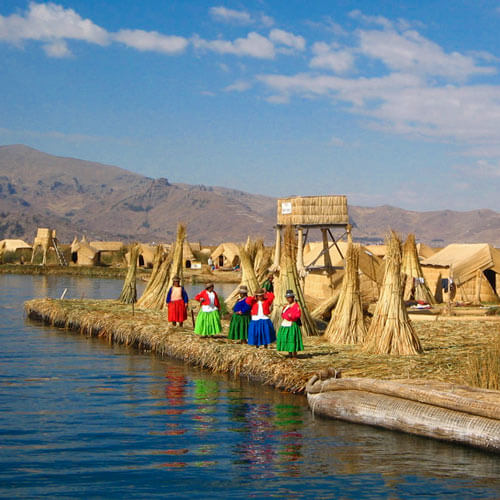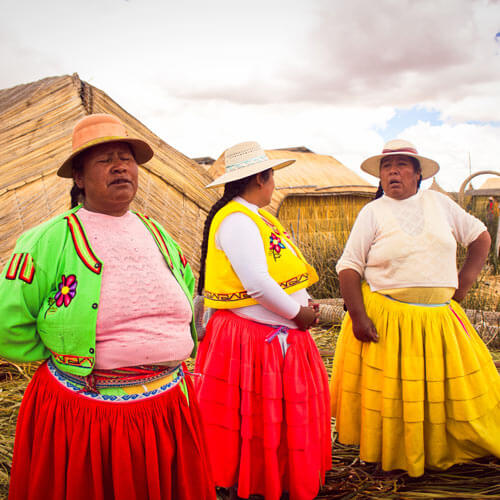 Tour Itinerary
ITINERARY:PUNO > UROS FLOATING ISLANDS > PUNO
Duration 3:00 H.
08:50: Pick-up from your hotel in downtown Puno*.
09:20: Boat departure from main dock.
10:00: Visit of two floating islands. Encounter with Uros families and discovery of daily activities on the floating islands.
12:00: Return to hotels in downtown Puno.
WHAT DOES IT MEAN SHARED BASIS BOAT OR GROUP TOUR?
A shared basis tour is a group tour where different local tour operators sign up their clients and the large cost of transportation or tour guide is shared by many people so the tour price is lower.
WHAT ESSENTIALS SHOULD I BRING?
It is recommended to bring your sunglasses, sunscreen with high SPF,
moisturizing cream, bathing suit (just in case water is cold in the lake!), a hat, warm and comfortable clothes for night and dawn hours, cotton T-shirts during daytime, hand sanitizer and camera.
English-Spanish speaking guide
Pick-up from hotels in downtown Puno
Boat transportation round trip
Entrance fees to the islands
Tips
Lunch
There is a supplemental charge for pick ups from hotels outside the city of Puno: Libertador, Eco Inn, Casa Andina Private Collection, Posada del Inka, Jose Antonio and hotels in the village of Chucuito
Uros Floating Island
Half Day