Lake Titicaca Llachon Community Tour Overview
Llachon is the name of a pretty rural village located in the peninsula of Capachica on the shores of Lake Titicaca, 75 Kilometers (46 miles) away from the city of Puno. It takes a 1 hour and twenty minutes' drive to reach LLachon by road or 2 hours boat ride from Puno.
This peninsula offers fantastic views of the Lake and short hikes to surrounding hills with beautiful lookout points and ancestral ceremonial sites. About 1,300 inhabitants spread out the peninsula and they belong to the ethnic group of Quechuas. They are mainly farmers, fishermen and artisans.
Since the community members of Llachon have commercial ties with the populations of Amantani and Taquile islands, they have realized that tourism could be an important activity to promote much needed development in their community.
Since year 2000, this community has intensively been working on improving their houses, building community restaurants and other infrastructure adequate for tourism activities. The visits include walks throughout the village, visits to local family houses, observation of farming and weaving activities, and tasting local food.
For active travellers:
– KAYAK ON THE HIGHEST NAVIGABLE LAKE, half-day, and one-day and longer expeditions are available along the shoreline of the northeastern lakeshore including short excursions to the islands of Taquile and Amantani, boat – supported and accompanied by guides, the longer expeditions also include home-stays and all meals. Try this low–impact activity, no prior experience required! All trips depart from Llachon but on request in some cases can depart from Taquile or Amantani Islands on special itineraries. For more information see Kayak in Llachon.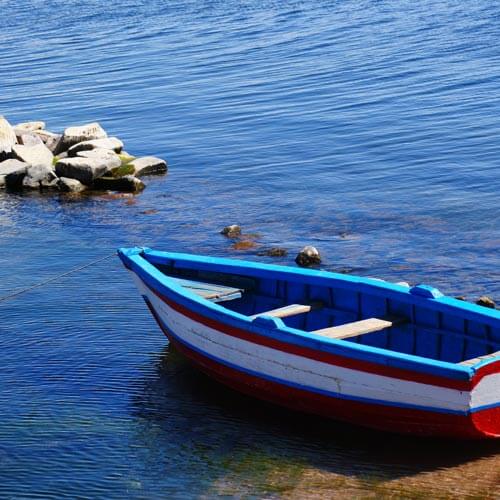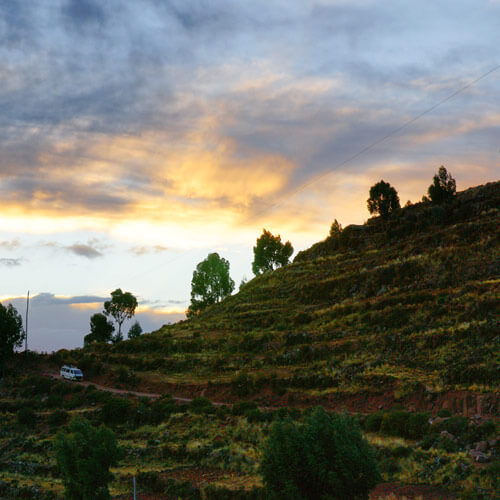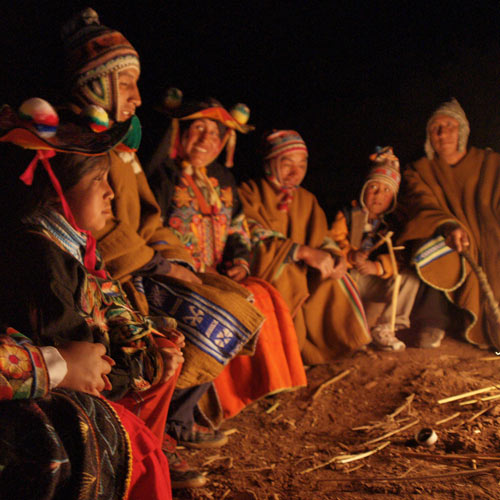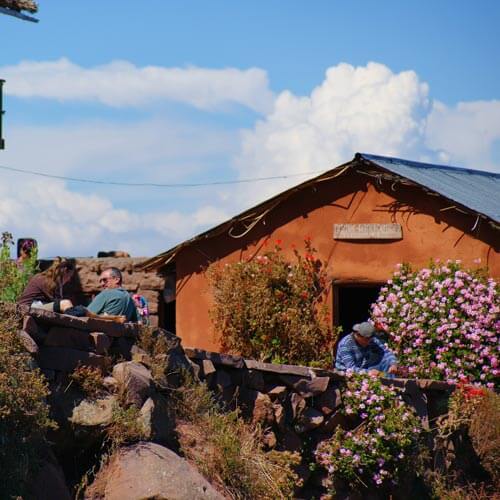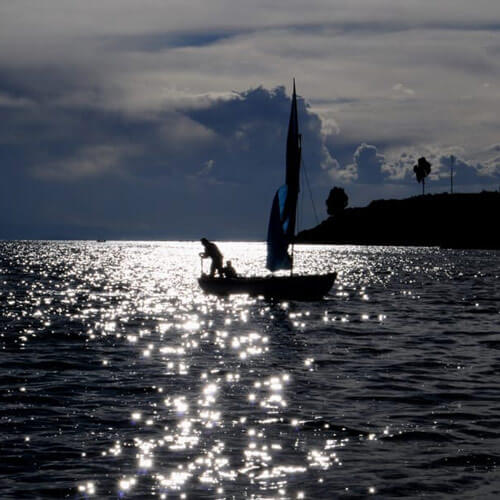 Why choose the Cultural Llachon community Tour?
This visit is a rural community-based tourism experience developed by the native people of LLachon and thus an incredible way to experience the cultures of Lake Titicaca. The community members offer lodgment in their homes, provide meals, boat transportation, sailing and kayak activities.
All Ways Travel is joining the community in its efforts to promote ecotourism and promote cross-cultural experiences with this native community. We are supporting the organization of the community to provide different tourism services such as homestays, food, and boat rentals.
This visit is appropriate for those travellers who are looking for an opportunity to have an authentic look into the lives of Quechua Peruvians who continue thousands of year's tradition.
Mr. Valentin Quispe -a strong-minded and visionary man from this small community has taken the lead promoting his community as another attractive destination in the Lake Titicaca area. When members of his community state that they are poor, Valentin replies that they cannot be poor with such spectacular natural scenery with the lake, the mountains, and their traditions.
Tour Itinerary
ITINERARY: PUNO > UROS FLOATING ISLANDS > LLACHON
All itineraries are subject to change due to circumstances beyond our control including, weather, road or trail conditions and flight schedules.
OPTIONS: Full Day, 2 Days and 1 Night or 3 Days and 2 Nights
7:00: We are picked up from our hotels in Puno and transfer to Puno dock.
8:00: We embark on the boat to go to Llachon. On the way to Llachon, we will stop by the Uros floating islands, which are away from the conventional tourist road. Our tour guide will help us understand this particular ethnic group that co-existed in Lake Titicaca with the Inkas, Aymaras and possibly with older civilizations.
11:30: We arrive at Llachon dock. Upon our arrival in the community, we will meet the local families who will host us during our stay.
12:30: Lunch is served in Llachon at a local restaurant.
After lunch, we will enjoy an encounter with some of the local families of the community and we will attend a private demonstration of traditional Andean weaving techniques. This demonstration is led by native artisans who are proud competitors of the famous and celebrated Taquileño weavers. Llachon weaving style competes in beauty, quality and color with those textiles of the Taquileño artisans.
After the cultural exhibition, we are offered a 30 minutes' walk to Qeskapa lookout point (low difficulty hike) to enjoy the sunset on Lake Titicaca. We return to our homes following the local paths crossing the small local farms. It is important to take flashlights for the way back home.
19:30: Dinner at a local restaurant.
Homestay overnight.
9:00: After breakfast, we will be offered a 1 and a half hour hike (moderate difficulty) to Cerro Carus lookout point to appreciate the beautiful lakeshores and the agricultural terraces of the peninsula of Capachica.
We will descend towards the lakeshore of Chucarillo and we will sail over Lake Titicaca on fishermen´s boats. The boat ride will take 40 minutes until we arrive at the local restaurant for lunch.
12:00: After lunch, we will get ready to go back on board to return to Puno or to continue by land to our next destination.
15:30: We arrive in Puno dock and we will be transferred to our hotel.
If our group stays one more night in Llachon, we will have the possibility to climb the highest peak of Llachon "Allan Pucara" which is considered guardian and protector of the local inhabitants. The hike up will take about 4 and a half hour and another 4 hours to climb down. This is a moderate to difficult level hike and requires to be well adjusted to the altitude and have a good physical condition. From the top of this mountain, we will be able to see almost all islands of the lake such as Amantani, Taquile, Suasi and Soto islands and the snowed capped peaks of the Royal Cordillera. The view of the vastness of Lake Titicaca is breathtaking. In case we do not wish to do this hike there are plenty of little paths to enjoy the quiet and charming community surroundings.
Overnight in a local homestay.
8:00: After breakfast we will continue our adventure on to Puno or next destination.
Pick-up from/to hotels
Boat transportation
Overnight in home-stay
Sailboat ride
Guided hikes, cultural weaving exhibition
Entrance fees to the islands
Bilingual Tour Guide (English/Spanish) for 2 days
2 breakfast, 2 lunches, 1 dinner per person
Overland transportation from Llachon to next destination**
Kayak 2 hour: $25,00 per person. Only direct booking onsite and the route is limited to the lakeshore for safety reasons
Tips
There is an extra charge from hotels outside the city of Puno: Libertador, Eco Inn, Casa Andina Private Collection, Posada del Inka, Jose Antonio and hotels in the village of Chucuito
WHAT ESSENTIALS SHOULD I BRING?
It is recommended to bring your sunglasses, sunscreen with high SPF, moisturizing cream, bathing suit (just in case water is cold in the lake!), a hat, warm and comfortable clothes for night and dawn hours, cotton T-shirts during the daytime, hand sanitizer and camera.
Llachon Community
2 Days 1 Night
Alternative Overland Options
See options and prices below.
Llachon - Cusco
Van (1-4 pp): USD453
Sprinter (5-10 pp): USD513
Sprinter (11-16 pp): USD614
Bus (8-15 pp): USD699
Bus (16-25 pp): USD699
Llachon - Juliaca Airport
Van (1-4 pp): USD114
Sprinter (5-10 pp): USD152
Sprinter (11-16 pp): USD229
Bus (8-15 pp): USD263
Bus (16-25 pp): USD275
Llachon - Mallkini
*up to 12 passengers only. 
Van (1-4 pp): USD225
Sprinter (5-10 pp): USD236
Sprinter (11-16 pp): USD255
Bus (8-15 pp): n/a
Bus (16-25 pp): n/a