LIST OF CULTURAL IMMERSION ACTIVITIES IN AMANTANI ISLAND
WHY DO WE OFFER YOU THESE ACTIVITIES? 
This kind of tour is our answer to a plea that for years, the local people of Amantani have been making to tour operators in Puno requesting for more fair treatment and payment from tour operators. At the same time, it is the answer to many travellers wondering if the money they pay truly benefits the local people. 
In this tour you will pay directly for the services you will be provided by your local hosts and we will help for it to be easy and gratifying experience.  If you stay one night in Amantani you can do two to three activities. If you stay two nights on the island you can do all the activities on the list.
Additionally, if you have an artistic gift and want to share it with your host families, we will help you organize games or educational activities in the community. We have had travellers who have given moments of laughter to the children of the island by showing their skills as clowns or puppeteers. What memories we have of moments like that! We have even managed to put on a theatre play!
Last but not least, for 15 years our company has carried out an educational project for motivating reading in Amantani. We have implemented 10 small libraries throughout the island and we work hard to motivate the locals to use them as self-educational centres.  Since year 2019, we host the mother library in our main office premises in the city of Puno. We collaborate with a grassroots organization called Luz Verde. From our library, Luz Verde members plan many educational workshops that are brought to parks in different neighbourhoods and remote villages in the highlands.
ACTIVITY 1 : LOCAL PRODUCE SHOWING AND QUINOA COOKING WORKSHOP
Through this experience we will learn about the island's native crops such as quinoa, corn, and different sort of potatoes including the dehydrated potatoes.  We will taste the local "snacks" such as corn, wheat, barley or roasted fava beans. They explain how they follow the cycles of nature and how important it is to show gratitude to mother earth (Pachamama) for its fertility. 
We will finish the activity discovering the traditional way of preparing the precious quinoa for daily consumption, its collection, washing and preparation until it is edible. We will also appreciate the handmade instruments that are still used to process food. We will end the activity tasting delicious quinoa pancakes!
Traveler's comments:
"We could see how they work to transform the quinoa from seed until we can eat it.  We did not know that quinoa was bad for the stomach if you do not rinse it well. They washed the quinoa up to 5 times!. This was truly a learning experience!"
Price:
Adults:  20 soles per person (6.00 USD per person approximately) 
Children: 12 and less free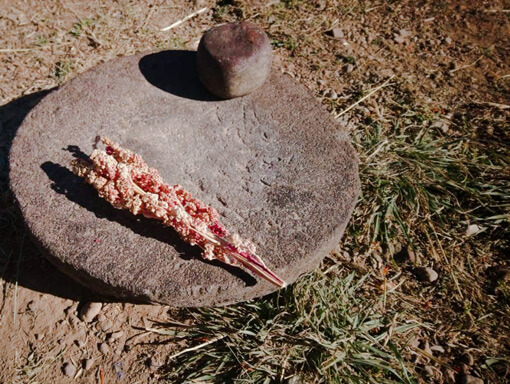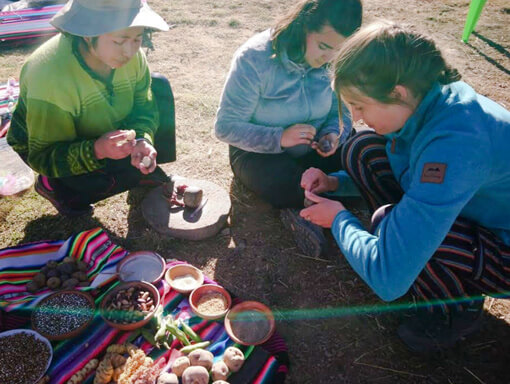 ACTIVITY 2
:

EMBROIDERY AND WEAVING DEMONSTRATIONS

Through this experience, we will discover how some men and women of Amantani strive to keep alive the tradition of spinning and weaving their own sheep wool. Women still use rudimentary instruments to weave thick blankets with sheep wool and some men of the island have mastered the art of embroidery. They will explain to us about the threads they use, the types of blouses they make and how functional are some clothing pieces such as the "chuj'u" a sort of headscarf that women use for carrying a baby, or firewood or food, or used as a coat if it is cold.

We will end the activity weaving bracelets with using some Andean patterns.

Traveler's comments: 

"We were lucky enough to try to make bracelets with two little boys and then belts and carpets.  We have seen also how they hand craft and sew shirts, jackets, and hats. Crafting hats is a huge job and it was worth it to to see that"

Price:

Adults: 15 soles per person (4.50 USD per person approximately)

Children: 12 and less free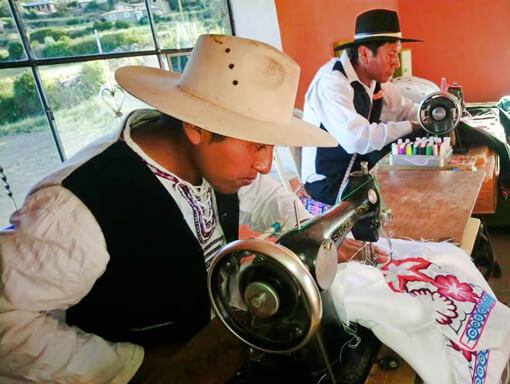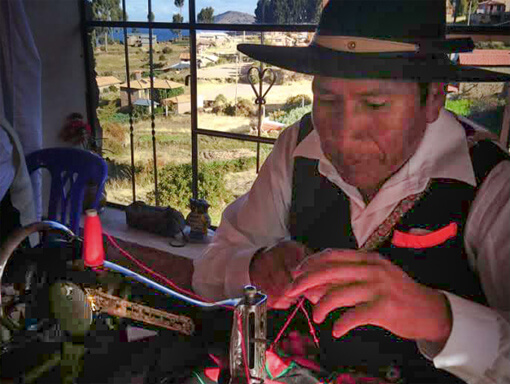 ACTIVITY 3: VISIT A STONEMASON WORKSHOP
This is a family from Amantani that strives to preserve the art of stone carving. The artist of the family uses the stone that the lake shores generously offers to its people. In this activity the stone crafter will take us to his stone quarry and we will help him transport the material to his home. We will try the basic tools he uses to carve the stones. It sounds like a simple activity but this man does this following his family tradition and tirelessly tries not to forget how we can use the local resources to create art and embellish their own houses.
Travelers comments:
"This morning we had the opportunity to see "señor" Julian who showed us how he carves the stone using basic tools.  We found this moment incredible. It takes so much patience and precision to get a design. Seeing him work with much passion made this moment profoundly unique, even magical.  His house was beautiful; it was all decorated with designs made out of stones of the lake".
Price:
Adults: 15 soles per person (4.50 USD per person approximately)
Children: 12 and less free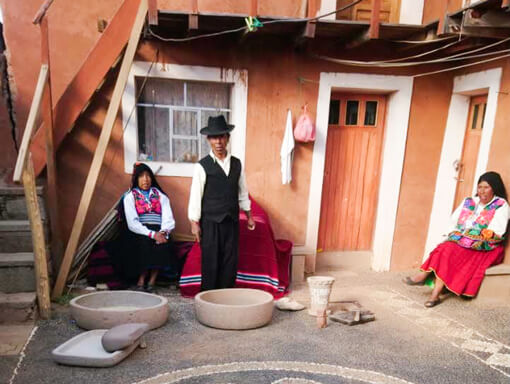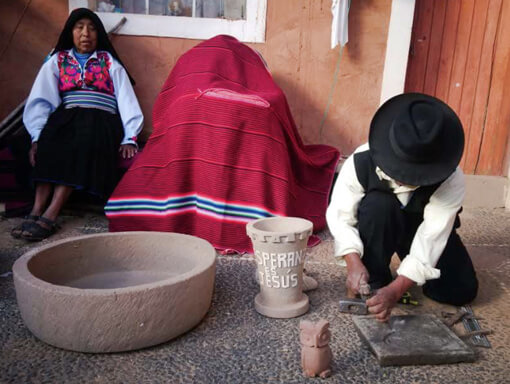 ACTIVITY 4: GETTING ON A BOAT WITH A LOCAL FISHERMAN
The fishing activity used to be as important as agriculture is for the subsistence of the people of Titicaca. Unfortunately, in 1940 extraneous fish species such as trout and catfish were introduced. These large fish have taken over the native small species. Today, overfishing has dramatically reduced the number of fish and the few fishermen who still dare to go out to the lake now use fishing nets. They leave at sunset to throw nets and return in the early morning to pick them up. Going out with these fishermen is a beautiful adventure to appreciate the evening light on a magnificent lake and connect with the magic that emanates from it.
This activity is carried out in two parts. The first outing is at sunset when you leave in a rowing boat to throw the nets and the second is an outing at dawn to collect the nets. Nowhere in the world is a fisherman's life easy. This activity is ideal for travellers who love adventure and can withstand the cold of the Andes at 3800 meters above sea level. It is suggested to wear thick winter jackets!
Price:
Adults: 20 soles per person (6.00 USD per person approximately)
     Children : 14 years old  and less not allowed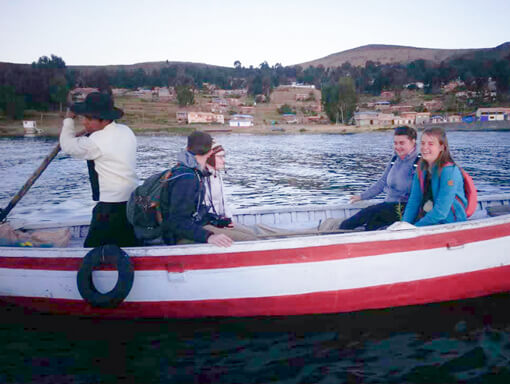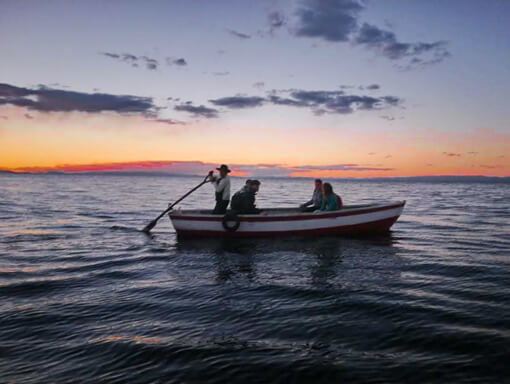 ACTIVITY 5: ANDEAN MUSIC WORKSHOP
This is an activity run by a young musician whose name is Hugo Mamani and artist who has returned home in Amantani with the goal to teach children the value of continuing playing the Andean local instruments such as zampoñas, quenas and charangos. We will join him in an intimate workshop to try these instruments and get to know its secrets and sounds! 
Like Raul, many native people from the islands have gone to Lima, the capital of Peru, to look for a better future just to realize that life in big cities has a very high cost. Of course, locals are happy when they receive visitors in their island because tourism brings much needed economic benefits and an interesting cultural dynamic in their communities that otherwise are isolated from the progress in the cities. But also, tourism is bringing younger people back home because they can improve their living conditions without having to suffer the loneliness, hunger or stress in huge cities where only those with diplomas or good connections find decent job opportunities.
Comment of travelers: 
"In the evening, four men from the community gave us a concert.  It was amazing because even though we were only two they took out all their instruments and we danced a lot.  We could understand how important music is in their culture. It was a very touching moment! In summary, what made this trip so incredible is the desire and love that the local people has given us"
Price: 
Adults: 15 soles per person (4.50 USD per person approximately)
Children: 12 and less free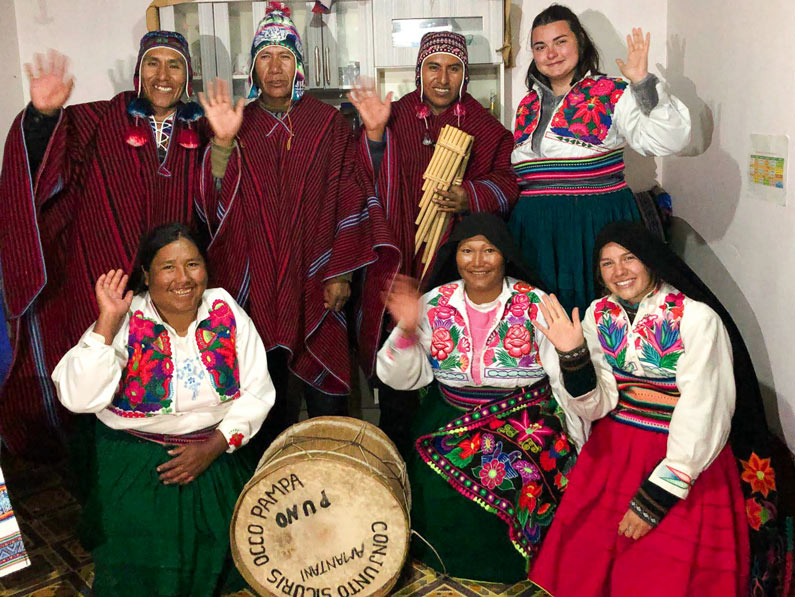 ACTIVITY 6: PARTY AND DANCE: OPEN ACTIVITY TO ALL
It has become customary on the island of Amantani to have a party at night as gesture of gratitude for your visit. This is an activity that you have to join with an open mind and heart. Often, some travelers mistakenly assume that local people in the communities sing, dance or play music only for getting tips from tourists. The truth is that our life in Peru is always full of music and dance. We dance for every special occasion we can! Amantani people are not exception of this rule, the locals are proud to show and share their traditional clothes with you. They have a genuine desire to share their music and their joy to have you as guests. We recommend not missing this moment but do not feel obligated to participate in this party if you do not want to.
FREE (IT DOES NOT INCLUDE DRINKS)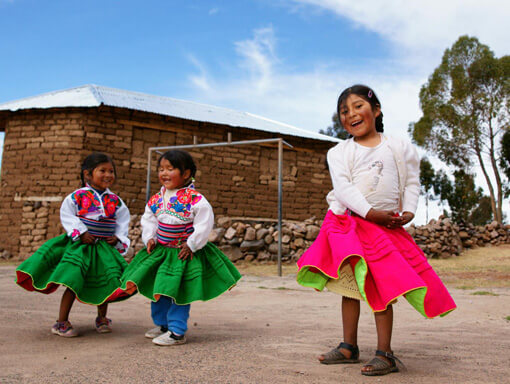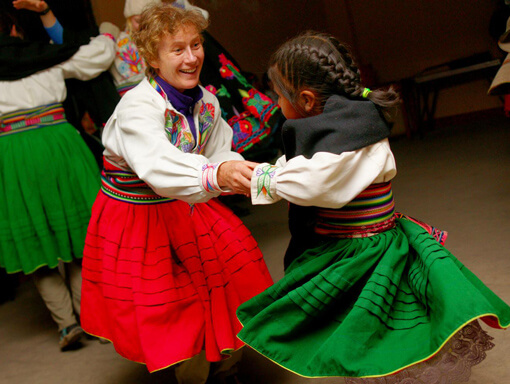 ACTIVITY 7: VISIT TO THE LIBRARY AND STORY TELLING
Children in rural villages do not have many opportunities to participate in cultural events. Depending on the group, we can just share time playing volleyball, soccer or other outdoor games or we can also share a time for storytelling. 
It was brought to our attention how willing are local children to recite poems or sing songs in public especially using their native Quechua language.  We have carefully evaluated the impact of this activity and have noticed that children reinforce their self-esteem when they receive applause and admiration from visitors. The objective of this activity is to ensure that the population of the island and, above all, children identify libraries as space where fun and positive activities happen.
Traveller's comments: 
"We spent the afternoon at the library with the kids from the community, it was amazing.  During our visit they improvised a show with the masks we had made the day before in the office of Puno.  It was very nice to see how much energy they put in such activities. Then we played volleyball and soccer. It was a very enjoyable moment filled with laughter.  We have seen the involvement of children when it comes to making calculations on the board. We were surprised to see their eagerness to participate because in Switzerland we find that children are much less excited to share their curiosity to learn new things. Sharing time with all these children was a pure moment of happiness"
FREE OF CHARGE AND ORGANIZED BY THE TRAVEL AGENCY STAFF